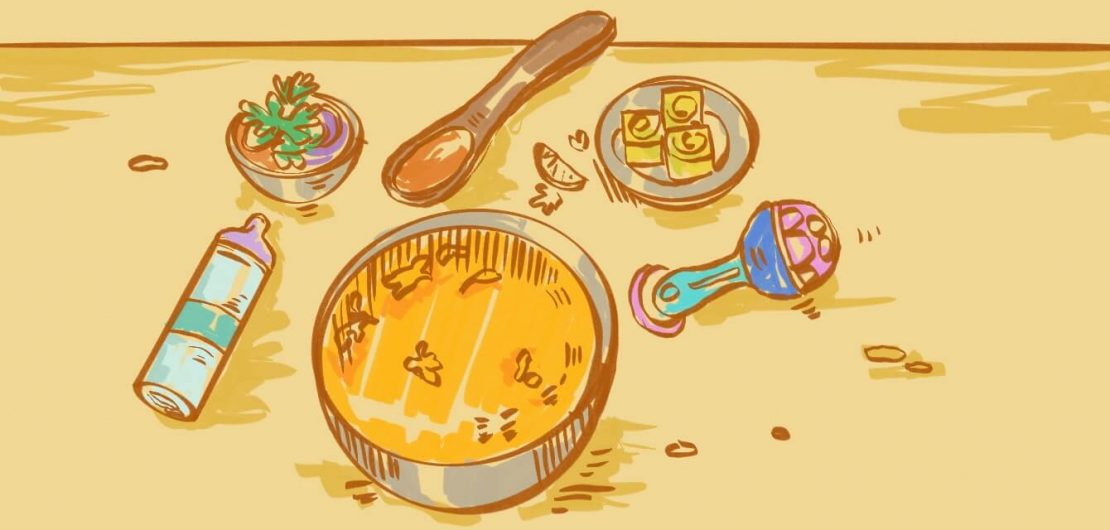 Tips On Adding Spices To Baby Food Recipes
There is a lot of confusion surrounding when to add spices to a child's diet (or baby food recipes), especially because flavor palettes vary drastically from country to country and family to family. However, it is common practice to spruce up meals for little ones with a dash of spice in many Thai, Middle Eastern, Latin American and Indian families, where cuisines are on the spicier side of the spectrum. The truth is spicing not only add flavor and aroma to any dish, but they also have medicinal properties which are great for your child. But, as with anything, it is important to also follow some baby food recipe guidelines. Here is everything you need to know about adding spices to your baby food recipes –
All About Timing
Doctors all over the world recommend introducing spices to your child's food after he/she crosses the 6-month mark to avoid allergic reactions and indigestion. When you begin introducing spices, do so in small amounts so you can easily transition them into a new world of flavor, while simultaneously monitoring any adverse reactions accurately – experts suggest introducing a new spice in small quantities only every 4-6 days. On average, it takes about 10-15 exposures to introduce a new flavor to a child. However, if a mom is consuming spicy food during the breastfeeding phase, it is usually easier for the child to have pre-acquired the taste.
A Few Words of Caution
It is important to note, that while adding spices like vanilla, ginger, garlic, turmeric, cumin, coriander, fennel seeds, cinnamon, nutmeg, cardamom powder, and mint to baby food recipes is fine from an early-stage, when it comes to spices like red pepper and black pepper, doctors advise to only do so after a child completes 18 months as it can trigger pain receptors in a baby if they are introduced to it earlier.
Sugar 'N Spice, And Everything Nice – Spruce Up Your Child's Meals With These Tips
Besides helping a child who is a picky eater warm up to foods they otherwise don't enjoy – especially veggies — spices are also a great way to boost your tiny tot's immune system and combat coughs, colds, infections, and an upset stomach. Here's how you can incorporate child-safe spices to baby food recipes –
> Garlic – Add to shredded chicken, lentil or carrot purees to improve your child's digestion. Garlic has antioxidant properties, making this a winner!
> Ginger – A small amount of ginger in lentils (daal) and puddings (halwas) can help treat minor colds, coughs, and digestive issues, while also boosting immunity.
> Turmeric – A pinch of Haldi (turmeric) in lentils (daal), chickpeas (channa) and gravy dishes offers a B6, iron, potassium, and magnesium boost to your child while curing infections and strengthening immunity. You can even add a dash of turmeric to milk in a bottle!
> Cumin – Add a very small amount of cumin to lentils and purees to aid with digestion, increase hemoglobin count, combat coughs and prevent future intestinal issues.
> Coriander – Both in the herb and powdered spice form, coriander can be added to garnish soups and lentils, giving it an appealing flavor. Coriander also prevents gastric issues and has anti-septic properties.
> Cinnamon – A pinch of cinnamon can be added to apple yogurt and rice puddings that your Lil' one will find delicious. Added bonus – anti-bacterial properties and digestion boost.
> Mint – Adding 3-4 mint leaves in yogurt treats skin infections and improves digestion. This refreshing spice relieves stomach aches, too!
> Cardamom – A pinch of cardamom in phirnis (puddings) and yogurt will improve your child's dental hygiene and digestion, while also preventing colds and coughs.
We hope these baby food recipe tips will make it easier for you to make your Lil' one's world more flavourful and enriching. Comment below and let us know!