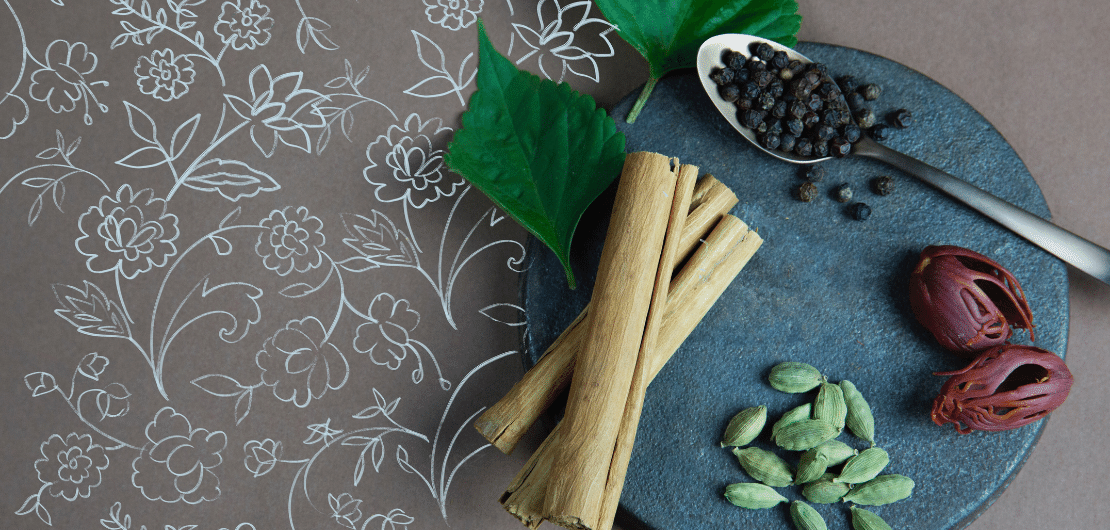 A Comprehensive List of Indian Spices Online
India is the land of spices. For time and time again, over all these years of rich culture and tradition, India has been heartily immersed in the spice trade. No country grows as many kinds of spices as India. It is indeed, without a doubt, the largest producer and exporter of Indian spices in the world.
Indian spices have been used for cooking and as herbal medication around the world for centuries, and have rapidly gained a reputation for being the most natural and authentic means to infuse flavor in food and to impart health to the body.
Here's a quick list of the most prominent spices that are, to this date, grown in varying regions of the Indian subcontinent –
Black Pepper & White Pepper
About one-third of the total pepper produced in India fuels the economy through export to as many as 80 countries! In fact, India is one of the largest producers of pepper in the World, and its production is prevalent in almost all the districts of Kerala, followed by regions in Karnataka and Tamil Nadu. Pepper is a tropical plant that grows as vines. It thrives well in wet and loamy soils, typically in areas characterized by well-distributed rainfall.
Both black and white peppercorns are the fruit of the pepper plant. The key difference, beyond color, is in its processing. Black peppercorns, also known as the "king of spices" and "black gold," are picked when they are nearly ripe – they are then sun-dried, which turns the outer layer black. White peppercorns, on the other hand, are produced through the removal of the outer layer before or after drying, which only leaves the inner seed. Interestingly, white pepper is much hotter in taste than black pepper, however, black pepper has more flavor notes.
Turmeric
Turmeric is another one of the big Indian spices, particularly because of its importance in Ayurveda and herbal medicine. Its use in dyes and medicines makes it an important condiment for export, particularly because 30 different varieties of turmeric are grown in the country.
Much like pepper, turmeric requires a tropical climate to grow, that is accompanied by well-drained sandy, loamy and alluvial soils.
Among the Indian spices producing regions, Andhra Pradesh is the largest producing region for turmeric, responsible for about half of the total production of India! Other areas where turmeric is grown in India, include Karnataka, Orissa, Tamil Nadu, West Bengal, Maharashtra, Kerala, Assam, Bihar, Meghalaya, Tripura, and Arunachal Pradesh.
Ginger
Ginger is an important Indian spice used to make medicines. The presence of aromatic rhizomes in ginger is what makes it commercially viable as a medicinal spice, and several varieties of the spice are exported annually to other parts of the World. Some prominent names of ginger varieties across India include Suprabha, Suruchi, Surabhi, Himigiry, and Manantoddy.
Ginger is grown in tropical and sub-tropical climates and thrives in loamy soils that are accompanied by a good deal of rainfall.
India is the largest producer of ginger in the world – 80%! Kerala, Sikkim, Orissa, Meghalaya, Mizoram, and West Bengal are the main states of ginger cultivation. Other states where ginger is also cultivated, include Andhra Pradesh, Karnataka, Madhya Pradesh, Arunachal Pradesh, Himachal Pradesh, Tamil Nadu, Uttaranchal, Chhattisgarh, and Jharkhand.
Black & Green Cardamom
Popularly referred to as the "queen of aromatic spices," cardamom is one of the oldest known spices in the world that is used for both flavoring and medicinal purposes. Regions in India suited to cardamom cultivation are home to a healthy range in the cardamom crop variety. Some names of cardamom variety are Appangala, IISR Avinash, and Mudigere.
This crop thrives well in regions that receive well-distributed annual rainfall, characterized by forest loam soils, typically acidic in nature. The growth of cardamom flourishes further when it is planted in humus-rich soils rich in phosphorus and potassium.
Indian spice farmers produce about 90 percent of the world's total cardamom, owing to its massively increasing demand in the world market. Kerala, Karnataka, and Tamil Nadu are the three major Indian states in which cardamom is cultivated.
Although black and green cardamoms are both from the same plant family, there are some key differences, besides color and size (black cardamom being the larger of the two). Green cardamom pods are usually consumed in its entirety – they are harvested earlier (before maturity) – and are a popular ingredient in sweet dishes. On the other hand, black cardamom is dried before seeds are extracted – it is usually added to dishes that require a more pungent flavor.
Cumin
An extremely important aromatic flavoring spice used in Indian kitchens, cumin or "jeera" as it is popularly called, is cultivated and used extensively in various forms. The use of cumin seeds in various Ayurvedic-herbal medicines is common practice, particularly in the interest of curing digestive problems, dyspepsia, and stomach pain. Cumin is also said to be a significant tackler of obesity.
The crop is ideally cultivated in moderate sub-tropical climates that are cool and dry. Well-drained, loamy soils rich in organic matter serve as the best home for this crop. For this reason, cumin is typically cultivated in the drier western regions of India, like Rajasthan, Gujarat, and Uttar Pradesh. RZ-19, GC-1, and RZ-209 are commercial variants of cumin – ideally, they should grow in a land that has not been used for farming for three years prior to its cultivation.
Ajwain 
Also known as ajowan caraway, bishop's weed, or carom, Ajwain comprises of oval-shaped, pale brown seed-like fruits that emit a bitter, pungent taste, but are aromatic in nature. As a spice, ajwain has significance in Ayurvedic medicine.
Among the Indian spices producing regions, ajwain is largely cultivated in Madhya Pradesh, Andhra Pradesh, Gujarat, Maharashtra, Uttar Pradesh, Rajasthan, West Bengal, and Bihar – it can be grown on a wide variety of soils, ranging from heavy clay to elite loams. Although ajwain is tolerant of drought, it is very sensitive to waterlogging and requires good drainage for its cultivation to happen smoothly.
Allspice
A spice indigenous to the West Indies, allspice is known to resemble a blend of cinnamon, clove, and nutmeg. Today, it is commonly cultivated in many warm climates around the world. Allspice is the dried fruit of the Pimenta dioica plant. It resembles large, smooth peppercorns in appearance.
The allspice tree is an evergreen shrub that is small in size and form; it can be grown outdoors in tropical and subtropical areas with normal garden soil and watering. And, it can also be grown as a houseplant or in a greenhouse. Allspice grows well in deep, rich loams that have high humus content. In the Indian spices producing regions, allspice is mainly cultivated in Maharashtra, Tamil Nadu, Karnataka, and Kerala.
Aniseed
Aniseed (anise) carries one of the strongest flavors available in nature! It is cultivated in many European and Asian countries. Among the Indian spices producing regions, aniseed is cultivated in Punjab, Assam, Uttar Pradesh and Uttaranchal. Interestingly enough, it is often used as a houseplant, as well.
Anise requires a warm growing season and demands soil that is fairly alkaline in nature. Its seeds need to be sown 18 to 24 inches apart. When the plant first appears, it must be watered twice a week.
Anise has culinary and medicinal properties of a wide array – it aids digestive and respiratory functions. Eastern European communities have used it widely in liqueurs, too. And, because crushed anise seeds yield aromatic oil, it is often used in soaps, perfumes and potpourris, as well.
Cassia & Cinnamon
It is easy to get confused between cassia and cinnamon. Cassia originated in Southern China and is responsible for nearly 90% of the United States' imported cinnamon – however, it is actually a fake form of cinnamon. "Real" cinnamon is often referred to as Ceylon cinnamon (which is where it is primarily cultivated) – it is softer, lighter brown, more expensive, and harder to find – it also tastes sweeter than cassia (cassia is more pungent).
When a cinnamon tree is around two years old, cultivators cut the plant to the size of a stump and cover it with soil. This technique causes the plant to grow like a bush, with new shoots emerging out of the sides by the following year, which ultimately contributes to the making of the actual cinnamon.
Cinnamon is a hardy plant and can tolerate a wide range of soil and climatic conditions. The soil it typically grows on is laterite and sandy, and its cultivation requires a good deal of rainfall. Among the Indian spices producing regions, cinnamon is known to be cultivated in Kerala and Tamil Nadu.
Cambodge
Cambodge is a tropical fruit commonly known as Malabar Tamarind. It is grown as a medium-size evergreen deciduous tree. Frequently referred to as kodampuli, in Kerala, this spice is often considered the secret seafood spice!
Its leaves are dark green and the fruit bears a flavor blend of sweet and sour. Cambodge is used in curries as a prominent souring agent and plays a vital role in cholesterol control.
Native to Indonesia, Cambodge is frequently found in South Asia, too, where it is often called "kokam" or "kokum." The crop grows well when partially shaded in a hot, humid climate in lateritic clay and sandy soils. Well-distributed rainfall also contributes to its healthy growth. Among the Indian spices producing regions, Cambodge is most widely cultivated in Kerala and Karnataka.
Celery
Celery is typically a leafy vegetable that is grown for its stalk. Today, celery ranks second in importance amongst salad crops – yes, even in India! The commercial cultivation of celery is limited in India, though – instead, it is mostly grown in the kitchen, home garden or the greenhouse, in colder weather and, hence, frequently amidst the hills. Among the Indian spices producing regions, you will mainly find it grown in Uttar Pradesh and Punjab.
Celery can be grown well in relatively cool and humid climates. It also grows well in dry climates, provided it is regularly irrigated. A moderate and well-distributed annual rainfall is ideal for its growth. Muck soils are best for its cultivation, though it can be grown successfully in clay soils as well. Best results are generally achieved when it is grown under loamy soil, which rich in organic matter.
Clove
The clove, an aromatic dried flower, is native to India and Indonesia. Humid, tropical climates best suit its cultivation, and it can be grown almost anywhere in India, except in the coastal sandy belt area. In fact, the hilly tracts of the Western Ghats and the red soils of Kerala are most ideal spots for the cultivation of cloves as it thrives best in a warm, humid, tropical climate with annual rainfall and rich, loamy soils in the wet tropics.
Coriander
Known to reduce diarrhea, blood pressure and even cholesterol, coriander is a pleasant, aromatic herb, indigenous to the Mediterranean region. Among the Indian spices producing regions, coriander is grown in Andhra Pradesh, Tamil Nadu, Karnataka, Rajasthan and Madhya Pradesh. It's an Indian spice whose major portion is consumed locally; today, a small quantity is being exported, too.
This tropical crop can be grown throughout the year. However, for higher grain yield, the plant needs to be grown in specific seasons typically characterized by dry and cold weather that free from frost. Heavy rain can negatively affect this crop. Coriander can be cultivated on almost all types of soils provided sufficient organic matter is applied. Black cotton soils with high moisture retention are most ideal, though.
Dill Seed
An annual herbaceous crop with leaves that smell pleasantly and taste warm, dill is native to Northern India. It looks like a fennel plant, and its seeds and leaves are used as spices, typically in soups, salads, sausage and pickling. Dill seeds and oils have inherent medicinal properties and are hence widely used in medicine preparation.
Any fertile soil helps the cause of dill cultivation. It's only imperative that the soil is well-drained and rich in organic content. Among the Indian spices producing regions, dill seeds are majorly cultivated in Punjab, Uttar Pradesh, Gujarat, Maharashtra, Assam and West Bengal.
Fennel
Also known as saunf in Hindi, this annual herb is native to Europe and is known widely for its flavoring and medicinal properties. As a rabi crop, fennel is majorly cultivated in Rajasthan, Andhra Pradesh, Punjab, Uttar Pradesh, Gujarat, Madhya Pradesh, Karnataka and Haryana.
All soils rich in organic matter are suitable for fennel cultivation. However, best results are achievable when fennel is grown in well-drained sandy loam to loamy soils. Shallow soils are not good for fennel cultivation and must be avoided at all costs. A dry and cool climate best suits its yield and quality.
Fenugreek
Fenugreek (methi) is an annual herb mainly cultivated for its seeds and leaves (fresh or dried). The seeds have a strong odor and an intense bitterness and are thus used as spices and condiments to enhance the flavor and nutritive value of food.
Fenugreek is an important seed spice, a native of South-Eastern Europe and South-Western Asia. Among the Indian spices producing regions, Rajasthan alone produces more than 80% fenugreek of the country. Other Indian states that grow fenugreek are Gujarat, Madhya Pradesh, Chhattisgarh and Uttar Pradesh.
Fenugreek is a cool-season crop that does not grow well in areas where rains are heavy and continuous. In essence, it is a cool-season crop. In the areas where rains are heavy and continuous, growing methi should be avoided. A rich well-drained loamy soil is best suited for fenugreek cultivation.
Nutmeg & Nutmeg Mace
Another of the Indian spices with health benefits, Nutmeg is an evergreen perennial tree that produces two separate spices, namely nutmeg and mace. Nutmeg is the dried kernel of the seed, whereas mace is the dried aril surrounding it.
Nutmeg is indigenous to Moluccas Islands (Indonesia). In fact, Over 50% of the world's export of nutmeg and mace are from Indonesia. Nutmeg thrives well in warm, humid conditions accompanied by annual rainfall. Favorable soils for its cultivation include clay loam, sandy loam and red laterite soils. Both dry climate and waterlogged conditions are not suitable for nutmeg cultivation. Among the Indian spices producing regions, nutmeg is mainly cultivated in Thrissur, Ernakulum and Kottayam districts of Kerala and parts of Kanyakumari and Tirunelveli districts in Tamil Nadu.
Nutmeg and mace are known to relieve the likes of diarrhea, nausea, stomach spasms and pain, and intestinal gas.
Red Chili
With origins that date back to 7000 B.C., red chili was originally cultivated only by Mexicans. Now, there are more than 400 different varieties of chilies found all over the world. India has become the world's largest producer and exporter of chili, exporting to the USA, Canada, UK, Saudi Arabia, Singapore, Malaysia, Germany and many other countries across the world. Among the Indian spices producing regions, red chilies are cultivated are Andhra Pradesh, Gujarat, Karnataka, Maharashtra, Orissa, Rajasthan, Tamil Nadu, Uttar Pradesh, West Bengal, Madhya Pradesh and Uttaranchal.
Chili is primarily a tropical plant that grows well in a warm and humid climate. Excessive rainfall is detrimental to its growth as it promulgates the rotting of the plant. Chili can be grown in a range of soils, but black soils that retain moisture for longer durations are suitable for this rain-fed crop. On the other hand, well-drained soils and sandy loams are also good under irrigated conditions.
Star Anise
With a strong licorice taste and an aroma similar to that of fennel seed, the rusty colored and tough-skinned star anise has widely used aromatic properties. Its origins lie in Vietnam and China, and it requires dappled shade and partial sunlight at a sunny, non-windy location. Star Anise's growth is best facilitated by soils that are loamy and well-drained, slightly acidic and rich in humus and compost. Among the Indian spices producing regions, star anise is produced to a small extent in Arunachal Pradesh.
Star anise seeds are sowed in spring under cover and pot on, growing on in the greenhouse until at least the following year. It is planted into the most sheltered spot, as it cannot take temperatures lower than about -5 C (23 F). Growing it in a container, which can be moved under cover when the weather is too cold, could just as well be the optimum way to grow star anise!
Saffron
Saffron is the most expensive spice in the world, and is commonly referred to as "Red Gold." The saffron plant is indigenous to Europe and is grown in Mediterranean countries, too. Among Indian spices growing regions, saffron is mainly cultivated in Jammu and Kashmir and Himachal Pradesh.
When it comes to saffron farming, the quality of the soil is more important than the climate of the area it is intended to be grown in. It thrives best in a warm, sub-tropical climate and requires well-drained, acidic to neutral, loamy, gravelly and sandy soils.
Mustard
Mustard is very popularly used in Indian cooking, and India actually stands first in its production. Among the Indian spices producing regions, it is grown in large quantities in Rajasthan, Gujarat, Uttar Pradesh, Madhya Pradesh, West Bengal, Haryana and Assam.
Popularly known for the edible oil the mustard seeds produce, this spice contributes quite significantly to general health benefits as well. Mustard is grown in a subtropical climate and thrives well in dry and cool climates, too. It seems to grow best when left to moderate rain and entirely frost-free conditions. Mustard can be grown in a wide range of soils that include both light and heavy loamy soils. However, medium to deep soil with good drainage is most suitable for its cultivation.
Vanilla
Native to Mexico, Vanilla is a tropical climbing vine that is loved for its pleasant flavor. There are 40 different species of vanilla, but only three of them are regarded as important. Vanilla vines can be grown indoors, in greenhouses and even in pots and containers!
Apart from warm and humid conditions, as well as shade, vanilla also needs well-distributed annual rainfall. The vanilla crop grows well in loose soils that have loamy texture and high organic matter content. India was introduced to vanilla in 1835. Among the Indian spices producing regions, vanilla can be found in Karnataka, Kerala and Tamil Nadu.
Now you know the roots of these rather prolific spices used in the Indian kitchen – time to incorporate them into your diet!