Description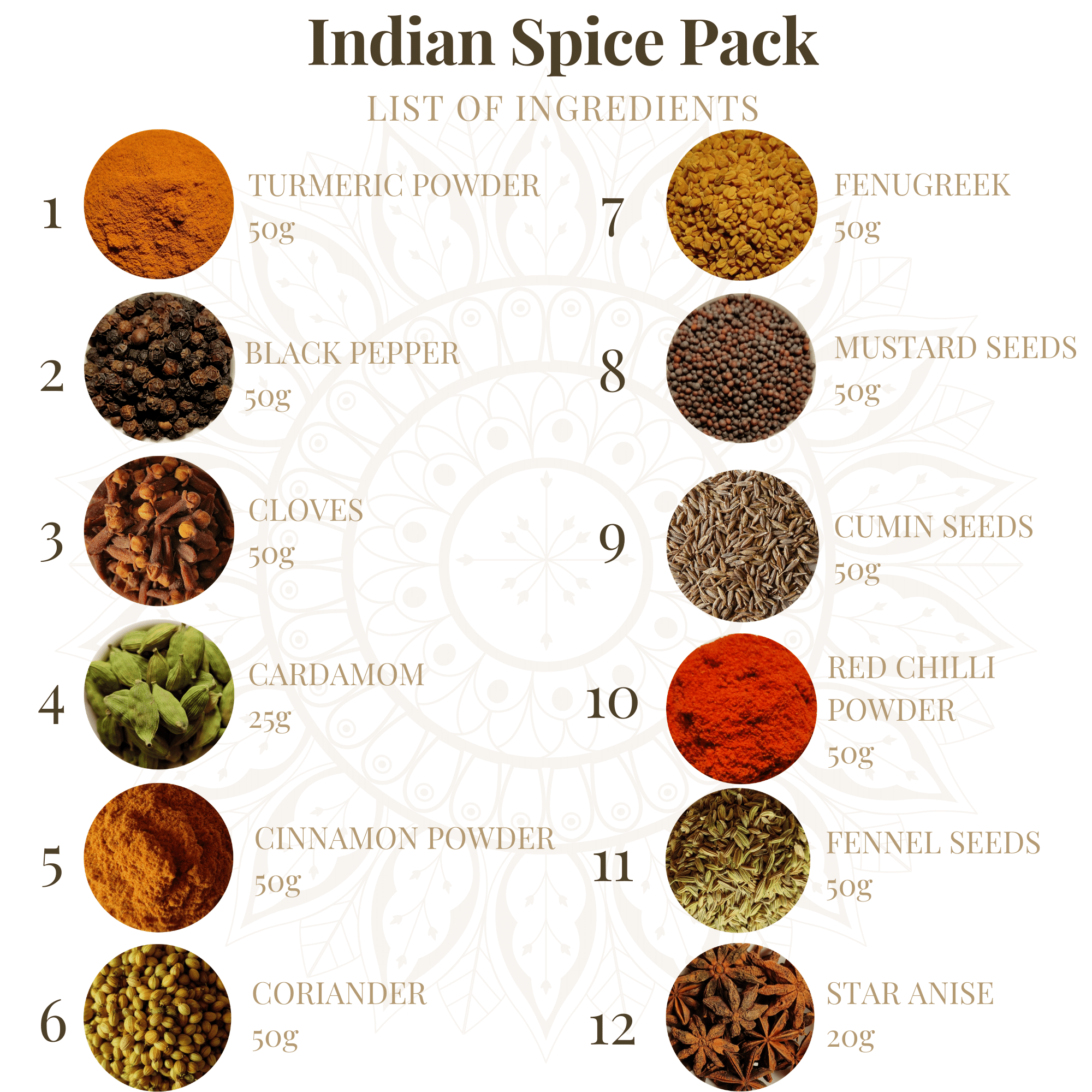 Our Indian Spice Pack
History has documented the countless expeditions, crusades, and wars that have been waged to acquire and cultivate the exclusive flavor and taste of Indian spices. India produces about 2.5 million tonnes of spices every year. Out of which around 200,000 tonnes are exported to other countries.
Indian spices are famous all around the world for their delicious taste, unique colour, and arousing aroma. The environment of India is perfect; heavy humidity, high rainfall, dry and hot weather favors the conditions for the growth of different spices. The climate conditions of India is perfect for growing a wide variety of spices throughout the country. High rainfall, dry and hot weather favours the growth of the majority of spices that are exclusively cultivated in India.
Indian spices are widely used for their medicinal, seasoning, and preservative effects. The flavour profile in the typical Indian households consists of turmeric, black pepper, clove, red chilli, coriander, cinnamon, etc which holds a staple and important position in Indian cuisine. Spices like ginger, fenugreek, and turmeric have been used as medicines since ancient times. Spices like cloves, cardamom, etc also act as mouth refreshing agents. These spices also aid in digestion, curb nausea, prevent heartburn, cures stomach ulcers, and boosts skin health. Spices are also shown to prevent the rotting of food by slowing down the growth of bacteria and boosts preservation properties.
Thottam Farm Fresh has created an essential Indian spice pack that is sure to fill your kitchen with delicious flavours and smells. Our Indian Spice Pack collection consists of:
Turmeric Powder: Turmeric is a golden-colored spice that is used in various applications around the world. It is used as a pivotal ingredient in several cuisines and is also used as a form of dye for clothing and threads in the textile industry. Turmeric has a slightly earthy aroma and has a slightly bitter flavor. It is used in several cuisines throughout the world for its characteristic colour and its impeccable flavour. Turmeric is also beneficial for one's health as it contains powerful bioactive compounds that can treat depression, Alzheimer's, etc.
Tellicherry Black Pepper: Tellicherry Black Pepper is one of the most sought-after spices in the world due to its complexity and versatility. Considered as one of the supreme peppers in the world, these berries are grown in the Piper nigrum trees found in the Western Ghats of Kerala. Black Pepper has a sharp and pungent aroma while maintaining a spicy and warm flavor.
It is popularly used as a source of flavoring in several cooking styles all over the world. It is coated onto meats, teas, sauces, spice blends, etc to add depth to their taste. Black Pepper contains a variety of nutrients such as flavonoids, Vitamin A, Vitamin C, and carotene which protects against several diseases.
Clove: Cloves are the most well-known spice in the group of spices known as "flower spices,". Cloves have a warm and pungent aroma while maintaining a strong sweet flavor. It is an excellent flavoring agent for savory dishes as well. Their sweet flavor is used to enhance food items such as cakes, cookies, sweets, and add depth to items such as sauces and soups. Their antiseptic and antibacterial properties also allow them to play a major part in medicine, especially oral and nutritional medicine.
Cardamom: Green Cardamom popularly known as the Queen of Spices is widely used throughout the world due to its applicability as a flavoring agent and for its numerous health benefits. Green cardamom has an aromatic and piney aroma while comprising a spicy and minty flavor. Green Cardamom is used as a key ingredient in Indian and Middle Eastern cuisines for savory recipes. It is added onto items such as pastries, puddings, poultry dishes, and beverages like tea and coffee to add depth to its flavor and to make the most of its medicinal properties. Cardamom contains various nutrients that help indigestion. It is mixed with other spices to gain relief from stomach issues such as nausea and vomiting
Cinnamon Powder: Cinnamon is possibly the world's most applied flavor as it is used in flavoring sweets and savory items alike. e. Cinnamon has a fragrant and woody aroma while the flavor is strong and sweet. It is probably the most commonly used baking spice as it incorporates well with cakes, cookies, and desserts. It is also regularly used in savory dishes such as preparations of lamb and sweet chicken to lend a tinge of sweetness in combination with the meaty flavor. Cinnamon also has several medicinal properties. It aids in weight loss by controlling insulin levels and decreases blood sugar thus boosting metabolism.
Coriander: Coriander is an important spice used throughout the world for its flavoring properties. Coriander has a warm and floral aroma while comprising of an earthy and sweet flavor which is incorporated onto several cuisines to highlight the complexity of each dish. Coriander is used as a key ingredient in the European and Asian styles of cooking. It is added to items such as soups, stews, pickling spices, and poultry dishes. It is also an important mixture in the brewery industry as it is used actively for its complex flavoring. Coriander contains several compounds that are found to be important in the prevention and curing of several diseases.
Fenugreek: The fenugreek is produced for its leaves and seeds which are used as a herb or spice respectively. It is available as whole and powdered. Fenugreek has a musky and fresh aroma while having a strong and bitter flavor. Fenugreek is popular in Indian and Middle Eastern cuisines. It is used as a primary ingredient in curry powders and is added to items such as pickles, dals, soups, sweetbreads, and potato dishes. Fenugreek is host to several supplements which is found to be important in fighting and preventing several diseases. It has been used in alternative medicine and Chinese medicines dating back centuries in treating skin diseases.
Mustard: Mustard is a condiment that is derived from the seeds of a mustard plant. It has a sharp and pungent flavor while having little to no smell. It is often paired with cheese and meats. It is used in sandwiches, sauces, soups, marinades, dressings It is often used in Asian, European, and African cuisine making it one of the most popular condiments in the world. Mustards are rich in several essential nutrients such as calcium, manganese, zinc, iron, protein, and dietary fiber. It also aids in boosting skin health and also lowering one's blood pressure levels.
Chill powder: Chill powder is a red coloured blend of powdered spices such as cumin, garlic powder, cayenne, oregano, and paprika. Chill powder is mild-moderately spicy depending on how much cayenne is blended onto it. Chill powder is used in various styles of cooking in different cuisines around the world. It is added to sauces, curries, meat preparations, soups, etc. Chill powder fights inflammation, promotes digestive health, cognitive functioning, nasal congestion, and aids in weight loss.
Cumin: Cumin is the dried seed of the herb Cuminum cyminum, a member of the parsley family. Cumin has a strong earthy flavor while having a woody and pleasant aroma. Cumin is a pivotal ingredient in Mexican, Thai, Indian and Vietnamese cuisines. It is a crucial ingredient in chill powder, adobos, garam masala, curry powder, etc. Cumin is a great source of antioxidants which fights against bacteria and parasites invading your body. It also helps in reducing cholesterol levels and also controls the blood sugar levels of an individual. It also aids in weight loss and helps combat diarrhea.
Additional Information
The benefits of Indian spices are many. The key is to unlock the door to an array of high-quality Indian spices that are packed with aroma and flavour intact. Thottam Farm Fresh is a trusted name in sourcing the nation's high-quality spices and is perfectly sealed to ensure that these versatile spices reach your kitchen cupboard safe and healthy. Buy the Indian Spice pack from Thottam Farm Fresh today!
Why Choose Thottam Farm Fresh?