Description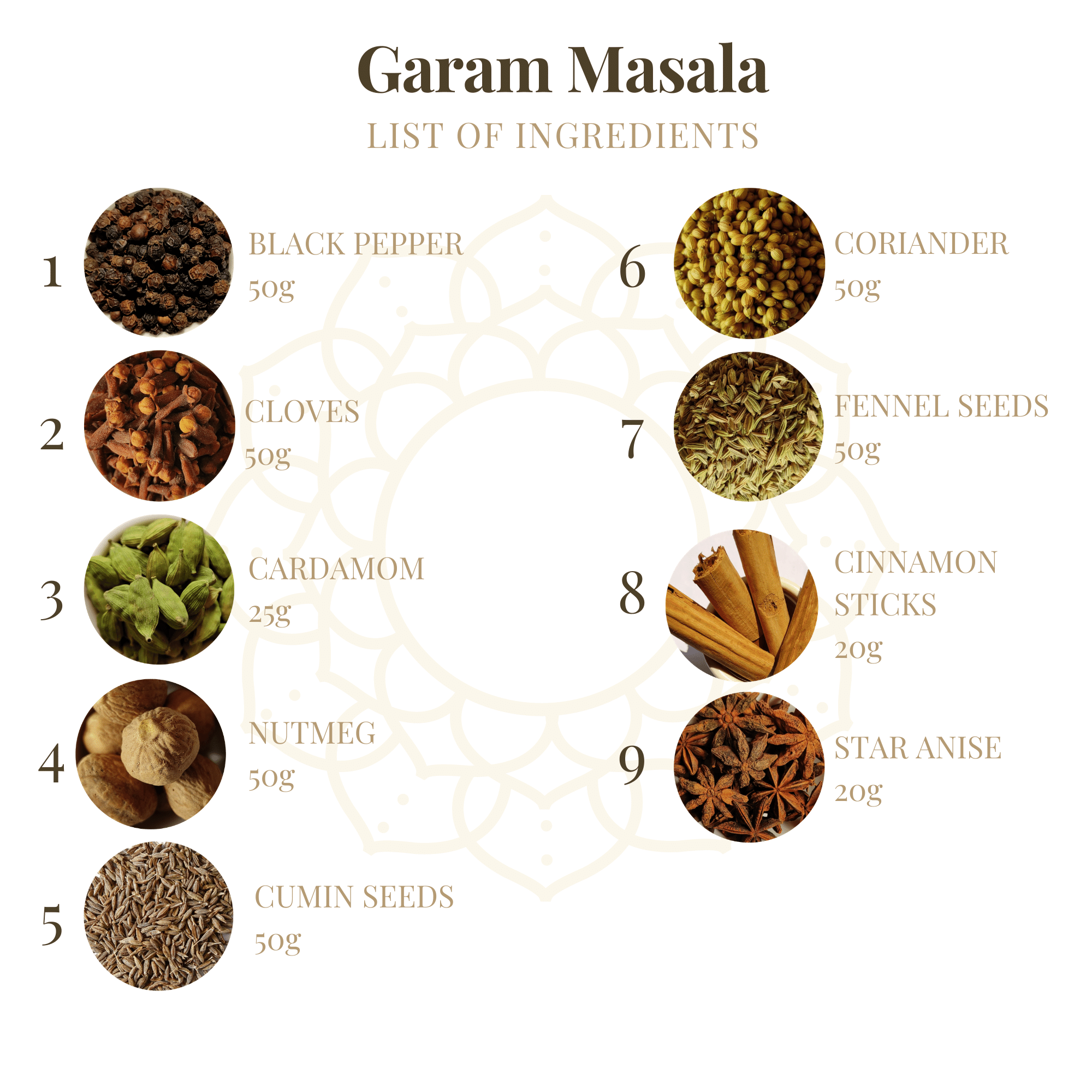 Our Garam Masala Pack
Garam masala is a spice blend that is popularly used in Indian cuisine. Whole spices such as mace, peppercorns, cinnamon, cumin seeds, coriander seeds, and cardamom pods are used tossed in a pan and then ground to powder. However garam masala needn't follow a single standard recipe. The ingredients differ according to the region and the chef's preferences.
Garam masala from the Northern part of the country often has black pepper for its spice element and largely has other sweet aromatic spices. Any sort of heat in the garam masala will come from adding the hot peppers. Garam masala tends to be hotter the further south you go in India, as red chillies are likely to be part of the blend. The spices might also differ based on what is more commonly available in the region.
Garam masala adds sweetness, floral notes, and a slight touch of heat from the black peppers. It is intended to be a fragrant and flavourful spice mix. It is usually added at the end of the cooking process so that it adds aroma to the dish while also seasoning it to your taste.
We incorporate our freshly grown spices to provide you a garam masala preparation pack so that you can create your blend of flavourful garam masala. The spices we provide in this pack are as follows:
Cumin: Cumin is the dried seed of the herb Cuminum cyminum, a member of the parsley family. Cumin has a strong earthy flavor while having a woody and pleasant aroma. Cumin is a pivotal ingredient in Mexican, Thai, Indian and Vietnamese cuisines. It is a crucial ingredient in chill powder, garam masala, curry powder, etc. Cumin is a great source of antioxidants which fights against bacteria and parasites invading your body. It also helps in reducing cholesterol levels and also controls the blood sugar levels of an individual. It also aids in weight loss and helps combat diarrhea
Coriander: Coriander is an important spice used throughout the world for its flavoring properties. Coriander has a warm and floral aroma while comprising of an earthy and sweet flavor which is incorporated onto several cuisines to highlight the complexity of each dish. Coriander is used as a key ingredient in the European and Asian styles of cooking. It is added to items such as soups, stews, pickling spices, and poultry dishes. It is also an important mixture in creating curry blends, garam masala, etc. Coriander contains several compounds that are found to be important in the prevention and curing of several diseases.
Cardamom: Green Cardamom popularly known as the Queen of Spices is widely used throughout the world due to its applicability as a flavoring agent and for its numerous health benefits. Green cardamom has an aromatic and piney aroma while comprising of a spicy and minty flavor.. Green Cardamom is used as a key ingredient in Indian and Middle Eastern cuisines for savory recipes. It is also a popular ingredient in creating curry powders, spice blends, garam masala, etc. Cardamom contains various nutrients that help indigestion. It is mixed with other spices to gain relief from stomach issues such as nausea and vomiting.
Black Pepper: Tellicherry Black Pepper is one of the most sought-after spices in the world due to its complexity and versatility. Black Pepper has a sharp and pungent aroma while maintaining a spicy and warm flavor. It is popularly used as a source of flavoring in several cooking styles all over the world. It is coated onto meats, teas, sauces, spice blends, etc to add depth to their taste. It is also added to spice mixes, curry powders, garam masala, etc to add a tinge of spiciness. Black Pepper contains a variety of nutrients such as flavonoids, Vitamin A, Vitamin C, and carotene which protects against several diseases.
Cinnamon: Cinnamon is possibly the world's most applied flavor as it is used in flavoring sweets and savory items alike. e. Cinnamon has a fragrant and woody aroma while the flavor is strong and sweet. It is probably the most commonly used baking spice as it incorporates well with cakes, cookies, and desserts. It is also regularly used in spice blends, curry powders, garam masala, etc to lend it its signature sweetness. Cinnamon also has several medicinal properties. It aids in weight loss by controlling insulin levels and decreases blood sugar thus boosting metabolism.
Clove: Cloves are the most well-known spice in the group of spices known as "flower spices,". Cloves have a warm and pungent aroma while maintaining a strong sweet flavor. It is an excellent flavoring agent for savory dishes as well. Their sweet flavor is used to enhance food items such as cakes, cookies, sweets, and add depth to items such as sauces and soups. They are also added to spice blends, garam masala, curry powders, etc. Their antiseptic and antibacterial properties also allow them to play a major part in medicine, especially oral and nutritional medicine.
Nutmeg: Malabar Nutmeg is a universally used spice as it is used throughout several cuisines around the world. Nutmeg has a warm and fragrant aroma while comprising of a sweet and piney flavor. Nutmeg is available in the grounded and whole form. Nutmeg is used as a key ingredient in sweet and savory dishes to lend its trademark flavor to the cook. It is added onto baked goods such as pie, spice cakes, puddings, and cookies while also adding flavor to items such as stews, curry powders, garam masala, sausages, and salads. Nutmegs aids in the treatment of indigestion as it contains dietary fibers that combat nausea and irregular bowel movements.
Additional Information
The benefits of home-made garam masala are many. The key is to unlock the door to an array of high-quality Indian spices that are packed with aroma and flavour intact. Thottam Farm Fresh is a trusted name in sourcing the nation's high-quality spices and is perfectly sealed to ensure that these versatile spices reach your kitchen cupboard safe and healthy. Buy the Garam Masala preparation  pack from Thottam Farm Fresh today and make your own amazing Garam Masala mix!
Why Choose Thottam Farm Fresh?