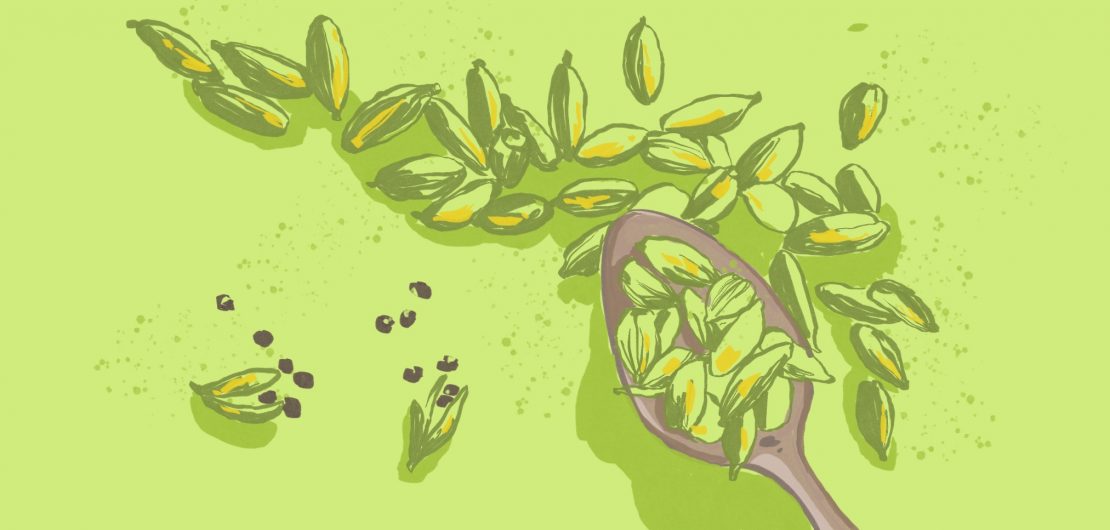 Interesting Ways To Use Cardamom In Your Dishes
Cardamom is one of the oldest known spices to exist on this planet! In fact, the ancient king of Babylon (721–701 BC) grew cardamom in his garden. Cardamom uses in India dates back to very ancient times – nearly 5,000 years ago. While it is native to South India, its use in Middle Eastern and Scandinavian cooking has also been prominent over the years. In this article, we outline some interesting Cardamom uses for your kitchen.
Kerala Cardamom has an amazing fragrance and can add flavor to just about anything. But, beyond that, it also has tremendous health benefits to offer. Cineole, a major component of cardamom oil, has been majorly responsible for this feat.
If you've recently uncovered a taste for this beautifully versatile spice, then get ready to pick up five fun cardamom uses and ways to apply it in dishes for healthy, happy eating!
1. Cheers! Drink To Good Health
Most people know about the concept of cardamom tea. But, did you know cardamom fits well with just about any beverage you add it to? Mulled wine, coffee, hot cider, eggnog, thandai, almond milk, Qahwa (Arabic coffee) and every variety of chai (tea) you can imagine – a hint of cardamom will take their flavor to the next level.
2. Spice Up Mundane Fruit Salads
Nothing says "juicy, sweet and fresh" more than a wholesome bowl of freshly concocted fruit salad. Add to that 3-6 whole pods of cardamom, and you have yourself a rather aromatic deal! Crush cardamom pods into a tangy mix of lime juice and honey (boiled in water separately), which you can then pour over the fruit mixture. If you leave the shreds of cardamom in the salad, the pods will keep giving off their aroma over a prolonged period of time.
3. Transform Your Favorite Curry Recipe
An aromatic spice like cardamom is bound to find a lot of scope in savory dishes with a curry base, such as chicken curry, mutton curry, tandoori curries, biryanis, and even the Hyderabadi/zafrani pulao. Cardamom uses, in all its versatility, pairs very well with offbeat ingredients like coconut milk, chickpeas, egg, and yogurt. So, when you're putting together that delectable curry and trying ingenious new things to liven up your birthday or anniversary dinner, think of cardamom!
4. Sweeten Your Traditional Oatmeal Recipe
Being healthy requires making healthy choices. For most of us, that seems impossible when scouting for oatmeal sweetening options in the morning. While oatmeal is a fabulous breakfast option, adding two big heaps of sugar isn't exactly good for you. The solution? Use cardamom – it has a deliciously sweet and slightly spicy flavor that pairs nicely with the handy add-ons of fruits and nuts.
5. Lend A Hand To Your Sweet Tooth
Cardamom use is almost an obvious choice for many bakers who want to add more life to pies, puddings, cakes, and tarts. The beauty of this spice lies more vividly in its fantastic ability to lend added sweetness to any kind of sweet dish. Think of any Indian dessert that brings you mouth-watering impulses, and you shall immediately be reminded of the hint of cardamom they all possess. The creators and innovators of rabdi, phirni, gulab jamun, rasmalai and gajar ka halwa have all lived through a meticulous love for cardamom. Naturally, the likes of muffins, pastries, coffee cakes, and banana bread shall not lag too far behind in adopting the versatility that this spice brings to the table. In fact, the next time you decide to make an ice cream base from scratch, think of cardamom and you'll have a little more health on your side.
We hope these five tips will aid you in revamping your favorite dishes in a healthier manner. If you have a tip for incorporating cardamom, comment below and let us know.