Description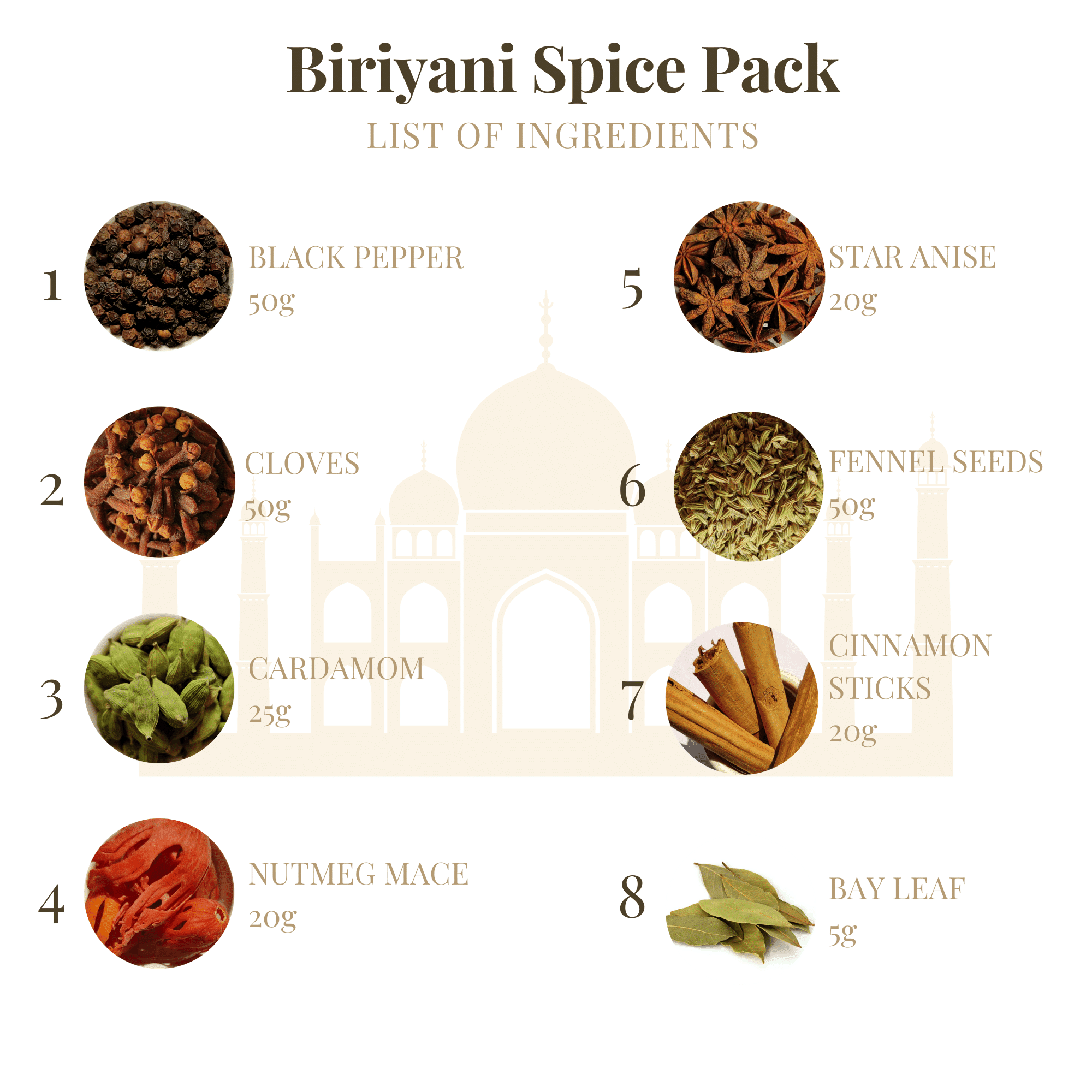 Our Biriyani Spice Pack
Biryani is an Indian dish featuring long grained rice flavored with fragrant spices. It is also layered with different types of meats such as chicken, lamb, beef, or fish and a thick gravy. All these components are combined well and then cooked over a low flame to make a delicious biryani.
Biryani is believed to have originated in Persia and then travelled to India where it was further refined into several new ways of preparing it. The various variations of the Biryani depend on where the dish is made. The differences might be minimal while others are distinguished by substituted or added ingredients.
Biryani is usually prepared using basmati rice but other grains of rice are also used depending on the region. Overall the main components of biryani are rice, meat, marinade, and spices. Depending on where the biryani is from will determine what kind of protein is used in the dish. Coastal regions will usually include fish, prawns, and shrimp while inward areas may incorporate chicken, goat, beef, and mutton. The meat is usually marinated before being cooked. It is the different layers of spice that truly give biryani its unique flavour. These spices can be whole or ground or individual or a spice mix.
At Thottam Farm Fresh, we sell a collection of spices in the form of a biryani pack which will lend a succulent flavour to your home cooked biryanis. The spices in this pack are as follows:
Cinnamon: Cinnamon is the dried inner stem bark of the Cinnamomum Verum trees found in the Western Ghats of Kerala. Cinnamon is possibly the world's most applied flavor as it is used in flavoring sweet and savory items alike. Cinnamon has a fragrant and woody aroma while the flavor is strong and sweet. It is probably the most commonly used baking spice as it incorporates well with cakes, cookies, and desserts. It is also regularly paired with meat dishes such as biryani, pie, lasagna, etc as it pairs well with the meatiness of the dish. Cinnamon also aids in weight loss by controlling insulin levels and decreases blood sugar thus boosting metabolism.
Black Pepper: Tellicherry Black Pepper is one of the most sought-after spices in the world due to its complexity and versatility. Black Pepper is popularly used as a source of flavoring in several cooking styles all over the world. It is added to popular beverages such as tea to enhance their flavor. It is coated onto meat dishes such as biryanis, curries, barbeques, etc to add its signature flavour to the contrast of the meaty flavour in these dishes. Black Pepper is considered to be the King of spices due to its unique flavor and several medicinal benefits. Due to its antibacterial properties, they are used to cure a cold, cough, and chest inflammation.
Clove: Cloves are the most well-known spice in the group of spices known as "flower spices,".Cloves are used in various forms all over the world. They are mainly used for culinary purposes. Their sweet flavor is used to enhance food items such as sweets, cakes, cookies, and add depth to meat items such as biryanis, mandi, pies, etc. Cloves contain a variety of nutrients such as Fiber, Vitamin K, Vitamin C, manganese and Vitamin E. Cloves are an effective tool in improving digestive health as they secrete digestive enzymes which eliminate bloating and indigestion.
Cardamom: Green cardamom is a traditional spice used worldwide grown from Elettaria cardamomum trees found in the Western Ghats of Kerala. Green Cardamom popularly known as the Queen of Spices is widely used throughout the world due to its applicability as a flavoring agent and for its numerous health benefits. Green Cardamom is used as a key ingredient in Indian and Middle Eastern cuisines for savory recipes. It is added to items poultry dishes such as biryanis, mandi, curries, and beverages like tea and coffee to add depth to its flavor and to make the most of its medicinal properties.Green cardamom extracts and essential oils have compounds that have several antibacterial effects that treat infections and common diseases.
Mace: Mace is considered the refined older sibling to the nutmeg. Mace is the "aril" of the fruit consisting of a fleshy network which is then dried and sold for consumption. The aroma is mildly nutty and warm while the flavor is predominantly sweet with a hint of strong bitterness towards the end. Mace is typically used in high-fat foods such as sauces, pies, cheese dishes, and meat dishes such as biryani, lasagna, and pies. Mace is a key component in pickling various spices. Mace contains volatile oils such as myristicin, eugenol, and elemicin which improves memory and spatial navigation.
Star Anise: Star anise is a popular spice all around the world because of its signature odor and beneficial medicinal properties. The spice comes from the tiny pink flowers which are harvested and dried just before ripening and then being made ready for consumption. Star anise has a pleasing and fragrant aroma while comprising a sweet and licorice-like flavor. It can be used whole or ground depending on its usage. Star anise is used as a key ingredient in Asian and Eastern cuisines. It is also added onto items such as biryanis, curries, stews and braised dishes like roasts and steaks. Star Anise is also filled with antibacterial and antifungal properties which help treat infections and common illnesses such as the common cold, cough, and throat ache.
Bay Leaves: Bay leaves are a fragrant leaf that is used as a cooking herb. Bay leaves are available whole as fresh or dried or ground into a powder. They have a floral aroma and are used vastly in everyday kitchens. Bay leaves do not have a distinct flavour but they can help derive out other spices and flavours in any dish. Bay leaves are usually added to the beginning of the cooking process in braising liquid or any sort of simmering sauces. It combines really well with meaty dishes such as steaks, stews, biryanis, pies, etc. Bay leaves contain small amounts of vitamins A, C, iron, calcium, and manganese which are essential nutrients for the body.
Fennel seeds: Dried fennel seeds are herbs that are native to the Mediterranean. Dried fennel seeds are often used in cooking as an anise-flavored spice. Fennel seeds and oil are used as flavouring agents in several foods and beverages. Fennel seeds are available in whole or powdered form. They have a sweet licorice-like taste and scent and are added to meaty dishes such as curries, stews, biryanis, fried rice, etc. Consumption of fennel seeds aids in digestion and prevent gas. Fennel seeds also help relax the colon and decrease respiratory tract secretions.
Additional Information
The benefits of spices used to make Biriyani are many. The key is to unlock the door to an array of high-quality Indian spices that are packed with aroma and flavour intact. Thottam Farm Fresh is a trusted name in sourcing the nation's high-quality spices and is perfectly sealed to ensure that these versatile spices reach your kitchen cupboard safe and healthy. Buy the Biriyani Spice pack from Thottam Farm Fresh today!
Why Choose Thottam Farm Fresh?