How is Black Pepper grown?
Black Pepper, also known as "the king of spices" is the most cash-earning crop among the many spices that Kerala exports to other countries. Considered as one of the supreme peppers in the world, these berries are grown in the Piper nigrum trees found in the Western Ghats of Kerala. Black Pepper is one of the oldest spices to exist as history has documented its use in several cultures and civilizations. It is believed to be a native to the Malabar Coast of Kerala in India and can also be used as a medicine to treat several illnesses. It is important to ensure that when you buy black pepper you buy the best quality available from trusted vendors and sellers.
It is popularly used as a source of flavoring in several cooking styles all over the world. It is added to popular beverages such as tea to enhance their flavor. It is coated onto meats and used to make different types of meat dishes to add depth to their taste. It is also a popular ingredient used in the commercial food industry in items such as sauces, spice blends, and salad dressing to incorporate a tinge of spiciness within their product. It is the most common spice used for seasoning across the world due to its versatility and its importance in lending its signature flavour to several dishes in different culinary profiles. The spice is commonly available throughout the state so make sure that you buy black pepper that is produced using the most sustainable and suitable methods.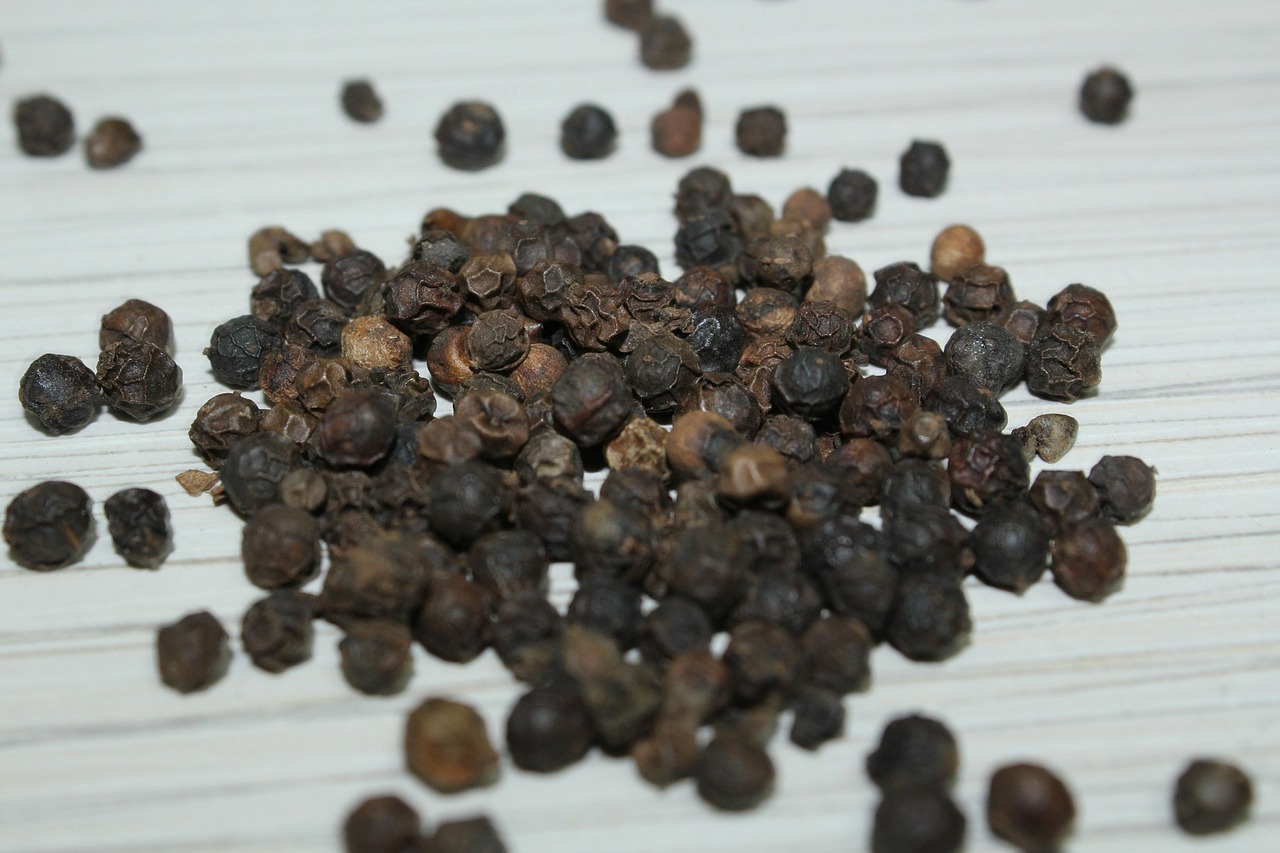 India is the second-largest producer of black pepper after Indonesia. Its distribution is highly concentrated in the southern states such as Kerala, Karnataka, and Tamil Nadu. Even though it is produced in almost all districts of Kerala, the largest producer of Black peppers comes from the Kannur, Idukki, and Wayanad districts followed by the other districts. About one-third of the total production of black pepper in Kerala is exported to foreign markets. When you buy black pepper make sure that is of good quality and hasn't sustained any damage. Let us see how black pepper is cultivated in Kerala.
Essential Growing Conditions
The black pepper plant comes from the tree scientifically classified as "Piper nigrum" trees which typically reach a height of 10 meters due to its aerial roots. The plant's broad shiny green leaves are alternately arranged and the small flowers grow up to slender spikes of around 50 blossoms each. The fruit known as peppercorns are yellowish red at maturity and only bear a single seed. They begin bearing in 2 to 5 years and may produce for as long as 40 years. Pepper plants are sometimes grown intertwined in tea or coffee plantations as they need to meet the same necessary growth conditions. The plant requires fairly high temperatures of a minimum of 10° and a maximum of 30°C along with partial shade for maximum growth. Adequate and well-distributed rainfall ranging from 200-300 cm also helps promote its growth. It thrives on well-drained loamy soils, overlaying the hilltops of the Western Ghats. It can also be grown on red and laterite soils with careful planning and favorable conditions. It can also grow from almost sea level to an altitude of 1,200m. It is always better to buy black pepper from the source and there are no better places that specialize in growing black peppers such as the state of Kerala.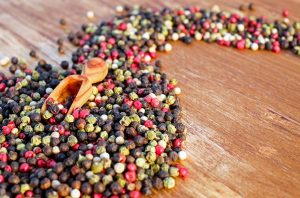 The fruits are then picked when they begin to turn red. All the collected fruits of the plant are then immersed in boiling water for around 10 minutes which turns them into dark black or brown in an hour. After this process, they are spread out to dry in the sun for three to four days. The outer coating is made to soften by keeping the fruits in moist heaps for 2-3 days or by keeping them in sacks submerged in running water for around 7 to 15 days. The prescribed method varies depending on the region. After the outer coating is softened they are then removed by washing or rubbing them. They are then cast out in the sun to dry again.
The whole peppercorns when ground will yield black pepper. White pepper is obtained when the dark outer part of the pericarp is removed. This process can also be done mechanically to make the whole process easier. The flavour of white pepper is less pungent than that of black pepper. Various other plants that are called pepper including the pepper tree, the pepper vine, and the sweet pepper bush are usually grown as ornamental plants and are not used as a spice. It is important to know and distinguish the different variants of peppers so that it is easier to buy white pepper or black pepper for whatever need arises.