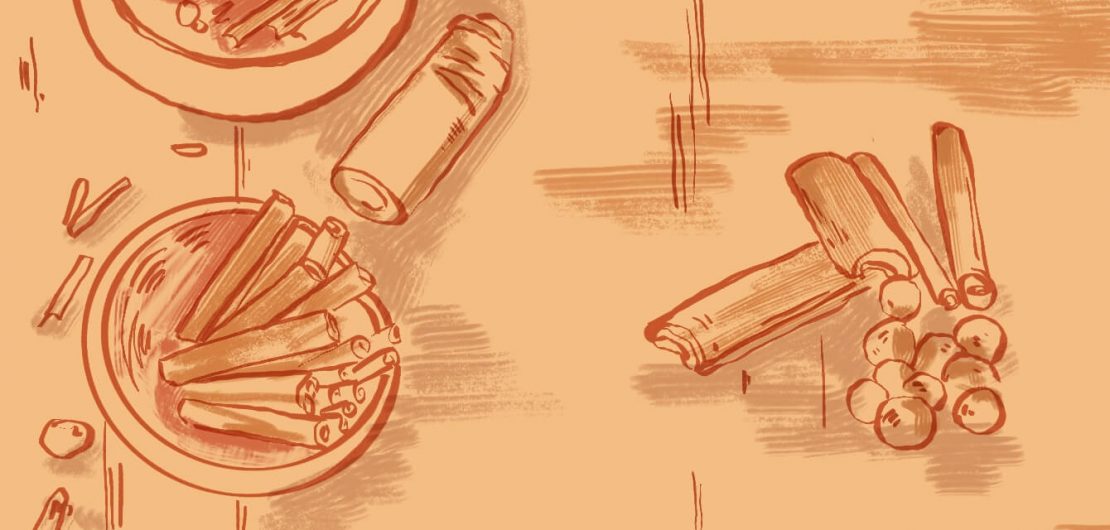 Ways To Use Cinnamon To Spruce Up Your Dishes
Spices like Cinnamon are easily the most versatile additions to otherwise humdrum cooking routines. They take up little room, add flavour, and work up quite the miracle when used the right way.
Cinnamon, despite being extremely versatile, is widely known to be used only in desserts like cinnamon rolls, buns, cakes, pastries and apple tarts. So, in today's blog-post, we're going to tell you how cinnamon can bring any meal to life! Here are five easy ways to incorporate this amazing spice into your cooking to make simple, yet impressive dishes.
1) Use it to enliven your breakfast
Breakfast is the most important meal of the day. But, sometimes, because of our hectic schedule, we barely find the time to make it interesting. So, progressively, over time, we forget how important it actually is. Cinnamon can change the way you see breakfast, for good! You can use it in pancakes, oatmeal, muesli and even cornflakes to enliven these dishes! Tomorrow morning, don't just pick up the next cereal box you find; use cinnamon to mix things up, and make breakfast new again. The spice mixes extremely well with nuts like walnuts and almonds, fruits (including pumpkins), maple syrup, vanilla, milk and eggs.
2) Make that healthy salad even healthier
How seriously do you take your salad? Much like your breakfast, your salad, if not given enough attention, can eventually become uninteresting and monotonous. So voila – cinnamon to the rescue! "Spice things up" as a phrase is surely popular for a reason! Whether your salad comprises of only vegetables or a few fruits here and there, know that you can put together a fantastic "maple cinnamon dressing" yourself, from scratch. You'll just need a pinch of cinnamon, a quarter cup of maple syrup and 2 tablespoons of extra virgin olive oil handy in your kitchen, to make this beautiful concoction.
3) Make a flavourful soup
Sweet or spicy, soups are always delicious and warm up your soul. They take minimal effort and almost always deliver in terms of satisfying our taste buds. And, they make your meal healthy and wholesome. Take the most boring vegetables, and use them to make a marvellous soup using cinnamon to provide an aroma that comforts you when slurped warm and relieves dessert pangs when consumed cold (without sugar, and instead a bit of coconut oil).
4) Spice up your roast chicken dinner
As you sprinkle salt and pepper over that delicious chicken sitting atop your roasting pan, make sure to sprinkle a teaspoon of cinnamon, as well to further enliven the dish. Add to the concoction some red caramelized onions topped with olive oil, and thin slices of lemon lightly placed around it. The end result – you have a magnificent roast-ready chicken waiting to light up your day!
5) Innovate at your next pasta party
Pasta almost always amounts to the party simply because there's always scope for seconds. So, for your next pasta party, utilize the versatility of cinnamon in putting together a unique comfort dish that your guests will thoroughly enjoy! I know what you're thinking. Cinnamon and pasta don't seem very miscible. But, once you've cooked the pasta to its creamy texture, and are ready to toss it into a beautiful serving bowl, know that a dash of cinnamon possibly combined with feta and/or parmesan, can work absolute wonders for your penultimate presentation. If you like to make your pasta sauce from scratch, the spice can actually enhance its flavour a whole darn lot. Typically, because meat sauces (like Bolognese) are cooked low and slow, it makes sense to use whole cinnamon sticks in the cooking (ideally two sticks) so the flavour sets in. Enhance the flavour further by adding cloves and parsley, too.
Happy cooking and Bon appetite!