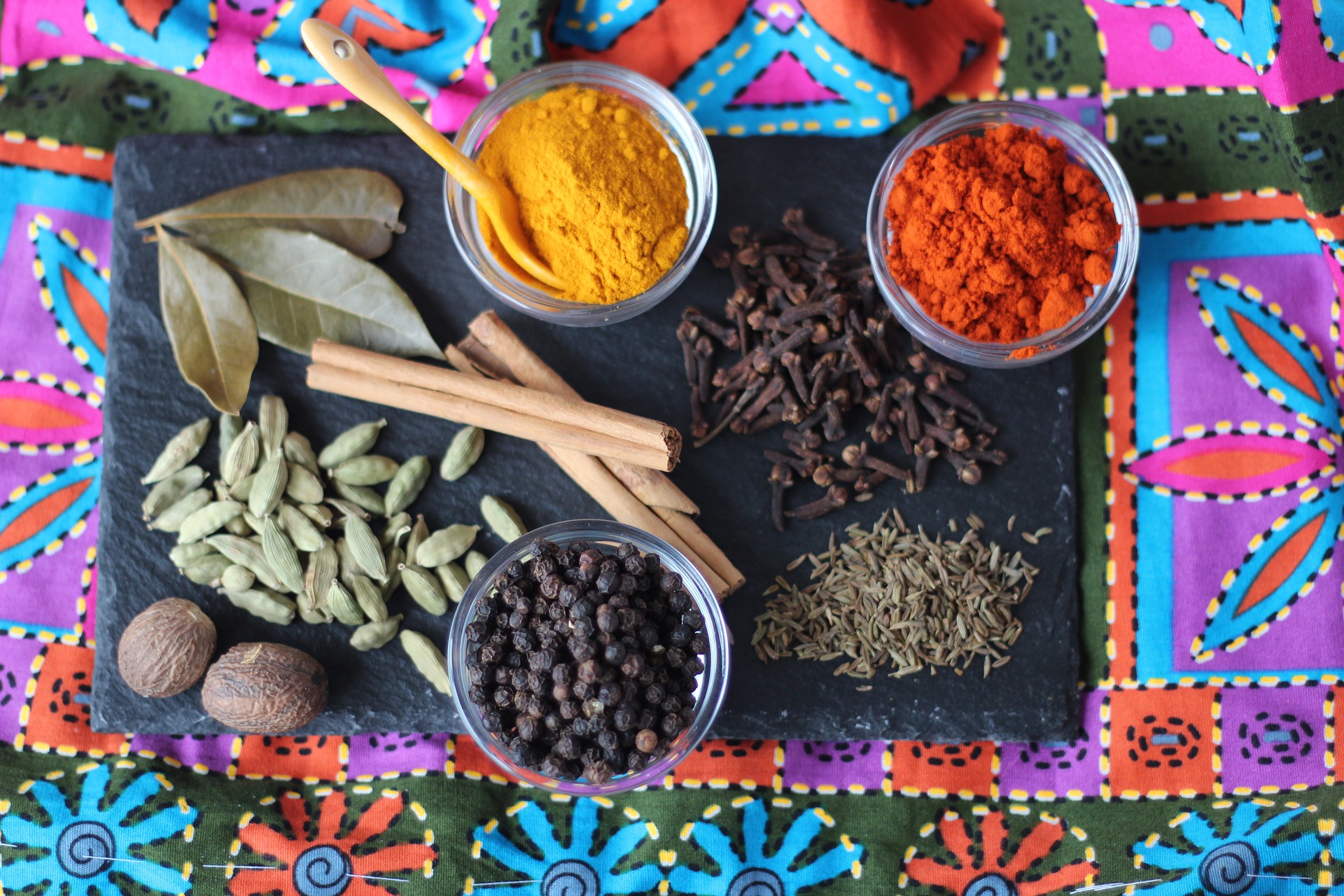 How to Masterfully Blend Spices While Cooking in your Home?
Top DIY Spice Blends You Can Try While Cooking
Adding and blending a certain amount of spices along with reducing the amount of salt and fat to one's daily diet is important for consuming a healthy and flavorful meal. Combining the adequate amount of spices is a ritual to be followed to achieve a perfect dining experience. Spicing up the cooking process can add flavor to the food, enhance the taste and color of the food, and also improve your culinary skills to achieve your desired taste! A fine spice merchant can provide you with all the good spices but learning to blend them well for a perfect cooking experience is the key. A labeled jar of spice blends can be a great contender for creating authentic international cuisines from your very own kitchen!
Points To Remember While You Blend Spices
Spices are primarily used to enhance the natural flavor of the dish being prepared. Many herbs and spices can complement the cuisine as well as complement each other. However, it is important to be selective while trying out different combinations. For instance, it is better to avoid using too many spices at the same time.
Make sure to use a dry spoon to get the required amount from the spice jars and blend them after proper stirring while you cook to avoid clumps.
Try to not sprinkle the seasoning straight from the container into a steaming pot. The rising moisture can essentially diminish the potency of the spice that remains in the jar or may cause it to spoil more quickly.
Ensure that the herbs being used such as leaf herbs are crushed like oregano, thyme, and basil, before blending them. This ensures an immediate release of flavor and aroma to the dish.
Spice Up Your Cuisine With Top Blending Skills
Glass jars, labels, measuring spoons, and individual packets of spices and herbs are your only requirements for a perfect spice blending experience. Since flavor profiles are different for individual cuisines, blending the required spices long before you cook makes the process easier unless you decide on trying internationally unique dishes, otherwise!
Here is a list of unique DIY spice blends and tips on how to use them for authentic dishes:
The spice aisle at your nearest supermarket is always confusing. Having to pick up spices for your kitchen rack may seem an uphill battle as there is a wide array of individual spices and spice blends that are available for you to choose from. So here are a few unique suggestions you can combine for a unique spice blending experience to craft authentic cuisines:
Curry Powder
Add a tablespoon each of black peppercorns, coriander seeds, ground turmeric, and ground ginger in a dry skillet. Further, add a teaspoon each of cumin seeds, fennel seeds, and ground fenugreek. Toast over medium flame and keep stirring the ingredients in the pan. Once a slightly roasted fragrance arises after around 3 to 5 minutes, let the mixture cool down, and then grind the ingredients into a fine powder. This makes about ¼ of a cup.
Chilli Powder
Mix 2 tablespoons of ancho, New Mexico, or other mild chili powder, in a dry skillet over medium heat. Add a tablespoon of dried oregano, 2 teaspoons each of cumin seeds and coriander seeds, and to it, add ½ teaspoon each of cayenne and black peppercorns. Further, toast the mixture, stir the ingredients in the pan, until a smooth aroma starts to come for approximately 3 to 5 minutes. Let the mixture cool down a little and then grind the mixture into a fine powder. This makes 1 ⁄ 4 cup of chilli powder with a twist of Mexican seasoning.
Jerk Seasoning
Mix a tablespoon of allspice berries, 2 teaspoons dried thyme, and a teaspoon of black peppercorns. Grind this mixture into a fine powder. Combine this mixture with 2 tablespoons of salt, 1 tablespoon each of paprika and sugar, along with a teaspoon of cayenne, and another 1 ⁄ 4 teaspoon of some freshly grated nutmeg. This makes about 1 ⁄ 4 cup of perfect jerk seasoning.
Five-Spice Powder
Add 2 tablespoons of fennel seeds, a tablespoon of fresh black peppercorns. To this mixture, add about 1 1 ⁄ 2 teaspoons of whole cloves, 6-star anise pods, and a 3­-inch cinnamon stick. Now grind all these ingredients to form a fine powder. This makes about 1 ⁄ 4 cup of aromatic five-spice powder.
Garam Masala
Extract the seeds from around 10 cardamom pods and into it add a 3­-inch cinnamon stick into a dry skillet. Now heat it over the medium flame by adding a tablespoon each of cumin seeds, fennel seeds, a teaspoon of whole cloves, and also 1 ⁄ 2 a teaspoon of freshly grated nutmeg. Now, cook by consistently shaking the pan, until an aromatic flavour arises after about 1 to 2 minutes. Let the mixture now cool down and then grind into a fine powder. This makes about a perfect 1 ⁄ 4 cup of garam masala.
Za'atar
Toast 2 tablespoons of sesame seeds in a dry skillet by heating it over a medium flame. When a light aroma evolves and turns into a golden color, crush a tablespoon of dried thyme into a small bowl. Now mix the sesame seeds, a tablespoon of ground sumac, and add salt and pepper to taste.  Stir the ingredients to blend perfectly. This can be even refrigerated for up to several weeks.
Baharat
Grind 2 teaspoons of black peppercorns, 1 ⁄ 2 teaspoon each of whole cloves, cardamom seeds, cumin seeds, coriander seeds, and allspice berries to a fine powder-like mixture. Put the content into a small bowl and add to it about 2 teaspoons of paprika and 1 ⁄ 2 a teaspoon each of ground ginger, cinnamon, and nutmeg. Now stir the ingredients and blend it well to combine. This yields about 3 tablespoons of Baharat.
Ras El Hanout
Mix a teaspoon each of black pepper, paprika, ground ginger, coriander, cinnamon, cardamom, and a pinch of turmeric powder. To this, add some freshly-grated nutmeg and combine the mixture followed by making them into a fine powder. Now add 1 ⁄ 2 a teaspoon each of fresh and pure cayenne, ground fennel seeds, allspice, cumin, and 1 ⁄ 4 teaspoon of ground cloves. Now stir to combine. This makes freshly-blended Ras El Hanout.
Pickling Spice
Combine two 3­inch cinnamon sticks, 5 bay leaves, 2 tablespoons mustard seeds, 1 tablespoon each of allspice, black peppercorns, as well as coriander seeds and dill seeds. To this, further add a teaspoon each of whole cloves and cardamom seeds, and 1 1 ⁄ 2 teaspoons red chili flakes.
Where To Buy Authentic Spices In India?
Indulge your creativity in the kitchen while cooking your favorite recipe by getting yourself the best aromatic, flavourful, and high-quality authentic spices from Thottam Farm Fresh, the most reliable and sought-after spices provider in Kerala, India. From green cardamom, nutmeg, clove, white pepper, and true Ceylon cinnamon to star anise, fenugreek, Cambodge, and coriander, our spice products are packaged safely and with state-of-the-art flavor-locked processing techniques. Call us today on TFF customer service number – +91 96 33 27 00 11. or browse our authentic spices online on Thottam Farm Fresh. Get your favorite set array of spices today!